The weather where I live - a large East Coast metropolis somewhere between Bridgeport, CT and Trenton, NJ - was notably warm last week, as it was for much of the East Coast. At
Dot Earth
, Andrew Revkin links to
a study
that predicts many more such heat waves in the future.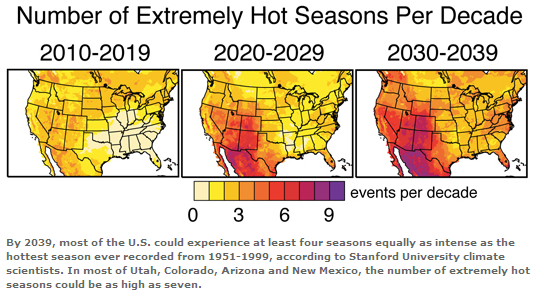 On the study:
"Using a large suite of climate model experiments, we see a clear emergence of much more intense, hot conditions in the U.S. within the next three decades," said Noah Diffenbaugh, an assistant professor of environmental Earth system science at Stanford and the lead author of the study.

Writing in the journal Geophysical Research Letters (GRL), Diffenbaugh concluded that hot temperature extremes could become frequent events in the U.S. by 2039, posing serious risks to agriculture and human health.

"In the next 30 years, we could see an increase in heat waves like the one now occurring in the eastern United States or the kind that swept across Europe in 2003 that caused tens of thousands of fatalities," said Diffenbaugh, a center fellow at Stanford's Woods Institute for the Environment. "Those kinds of severe heat events also put enormous stress on major crops like corn, soybean, cotton and wine grapes, causing a significant reduction in yields"...

In the study, Diffenbaugh and Ashfaq used two dozen climate models to project what could happen in the U.S. if increased carbon dioxide emissions raised the Earth's temperature by 1.8 degrees Fahrenheit (1 degree Celsius) between 2010 and 2039 – a likely scenario, according to the International Panel on Climate Change.

In that scenario, the mean global temperature in 30 years would be about 3.6 degrees F (2 degrees C) hotter than in the preindustrial era of the 1850s. Many climate scientists and policymakers have targeted a 2-degree C temperature increase as the maximum threshold beyond which the planet is likely to experience serious environmental damage. For example, in the 2009 Copenhagen Climate Accord, the United States and more than 100 other countries agreed to consider action to reduce greenhouse gas emissions "so as to hold the increase in global temperature below 2 degrees Celsius."

But that target may be too high to avoid dangerous climate change, Diffenbaugh said, noting that millions of Americans could see a sharp rise in the number of extreme temperature events before 2039, when the 2-degree threshold is expected to be reached.

"Our results suggest that limiting global warming to 2 degrees Celsius above preindustrial conditions may not be sufficient to avoid serious increases in severely hot conditions," Diffenbaugh said.
The study predicts that "an intense heat wave – equal to the longest on record from 1951 to 1999 – is likely to occur as many as five times between 2020 and 2029 over areas of the western and central United States." In other words, imagine you are 60 years old or so, and think of the absolute most extreme heat wave you've experienced in your entire life.
Twenty years from now, such heat waves will be occurring once every year or two.
And needless to say, there is zero evidence that we are prepared to seriously address the problem of global warming sufficiently enough to actually achieve the 2-degree goal. This is because we are a short-sighted, greedy, and not-quite-intelligent-enough species, and the world we bequeath to future generations will be severely damaged as a result. Very likely we will go down in history as a generation of obnoxious assholes who were too enthralled with our SUVs and plastic tchotchkes to make even the most minimally adequate moral calculations about our actions.
And if you think things might change once the effects of global warming actually start showing up in earnest... well, I have my doubts. Here is Revkin quoting social scientist Robert Brulle:
I'm up in New Hampshire, and the signs of climate change are everywhere, should you choose to see them. The strawberry season has already passed (it usually comes in late July), and you can now get fresh blueberries (3 weeks ahead of normal). The lake I am staying at has lost a lot of water clarity due to an excessive amount of tannic acid. The lake had its earliest ice out this year in memory, and so the leaves had had a longer time to decompose, thus releasing more tannic acid to the water. The water looks more like what you see in the Pine Barrens than in New Hampshire. These changes are all just taken in stride. Climate change remains something abstract and far away, both in time and space. In short, these changes are being normalized.
Cloudier lakes in New Hampshire today, an inundated Bangladesh tomorrow, and everything changing at the rate of one very slowly boiling frog. This is just a very difficult sort of calamity for our species to respond to.