The Center for Global Development has a tool that
ranks rich countries' commitment to the developing world
.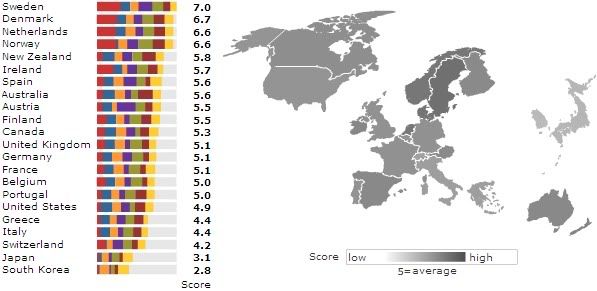 This Commitment to Development Index,
says
the CGD, "rates 22 rich countries on how much they help poor countries build prosperity, good government, and security. Each rich country gets scores in seven policy areas, which are averaged for an overall score." You can click on countries to get details on their rating in each of seven categories. As per usual, Scandinavia seems to be trying to make the rest of us look bad. For top-ranked Sweden, the rating is: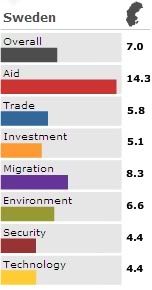 They give a lot through government programs, but little through private donations. By contrast, here's my own personal nation's rating:
We contribute all of 0.15% of our GDP to development, compared to 0.92% for Sweden. But our rate of private charitable giving ranks us 4th. I was surprised to see we actually have relatively low agricultural subsidies, which I think is more a reflection of the standard practice of high subsidization rates across the developed world, rather than a mark of particular openness in that sector of the US economy.
And what's up with the Asians? Japan and South Korea need to get on the ball.
Via the ever-linkable
Matt Yglesias
.