June 2010 was the hottest June on record, 1.22°F above average. So was the period of April-June, 1.26°F above average. And January through June - the entire first half of 2010 - were also the hottest on record, 1.22°F above average.
A trifecta!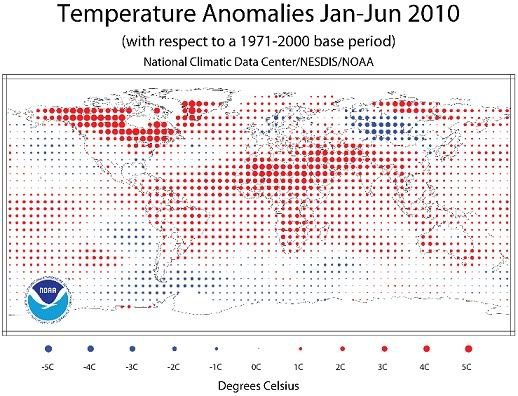 Pop quiz: what do these facts, and the giant oil spill and ecosystem carnage in the Gulf of Mexico, and the environmental damage and civil unrest in the Niger Delta, among many other sordid, disturbing facts about life on Earth in the early 21st Century, have in common?
George Will, among others, would say: nothing. Nothing at all. Because he does not believe that the world is warming due to our burning of fossil fuels; indeed, he does not believe we are in a period of global warming at all, as he argued in
an editorial
last year. He stated there that
according to the U.N. World Meteorological Organization, there has been no recorded global warming for more than a decade, or one-third of the span since the global cooling scare.
This assertions was factually
incorrect
- the WMO said no such thing - as were pretty much all of Will's assertions in the editorial. But what would make Will not only believe this assertion, but decide to broadcast it to the world from his extremely authoritative position as an editorialist for the Washington Post? Perhaps it was his interpretation of the fact that the ten warmest years on record,
according to NOAA
, have been, in order, 2005, 1998, 2003, 2002, 2006, 2009, 2007, 2004, 2001, and 2008. Or perhaps it's just his reading of
this chart
:
These data points pretty strongly suggest that the world is in a period of warming, and the record for 2010 is clearly continuing the trend. But to correctly understand the data that are being represented here, you have to meet at least two sriteria: 1) Have the statistical acumen and general intelligence of at least a second-grader; and 2) Not be a disingenuous toady for the fossil fuel industry. On at least one of these points, Will has obviously failed.