While bureaucrats from around the world are in Copenhagen haggling over an arcane agreement that may have profound effects on the state of the entire planet a century from now, you can enjoy this
interactive map
, which projects temperature rise across the the lower 48 states by the 2080s: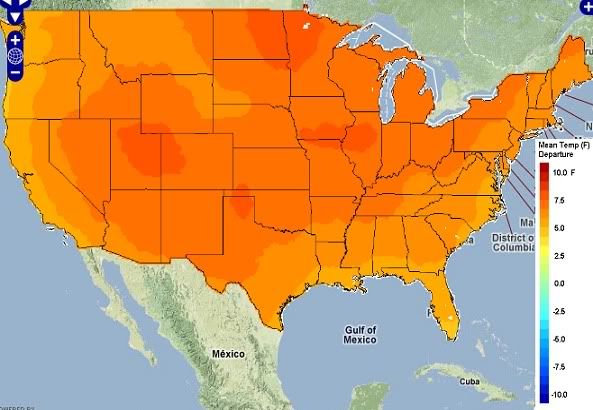 It's based on a "medium" projection of greenhouse gas emissions. It shows at least a 4F temperature rise relative to a 1961-1990 baseline pretty much everywhere and 6-8F in much of the Interior West and Midwest (a.k.a. where our food comes from). In fact the seven states that are expected to heat up the most are all in the Midwest or thereabouts: Nebraska and Iowa (9.4F according to the moderate scenario), South Dakota (9.3), Missouri (9.2), Illinois (9.1), Kansas (9.1), and North Dakota (9.0).
The maps are based on
a report (pdf)
from The Nature Conservancy:
To help average Americans, policy makers and other local stakeholders better understand how climate change will directly impact their states, The Nature Conservancy has analyzed the latest and most comprehensive scientific data available to calculate specific temperature projections for each of the 50 US states over the next 100 years.

The Nature Conservancy also worked with the University of Washington and the University of Southern Mississippi to develop a new on-line tool that combines the latest scientific data and climate models with geographic information systems (GIS), statistical analysis and web-based mapping services. This tool, Climate Wizard (www.climatewizard.org), represents the first time ever that the full range of climate history and future projections for specific landscapes and time frames have been brought together in a user-friendly format that is available to a mass audience.
It also predicts rainfall:
Bad news for California and Texas. Oh well, at least they're not the two most populous states in the country or anything.
Via
Huffington Post
.