The NY Times has an
interactive map
of Olympic medals won by country: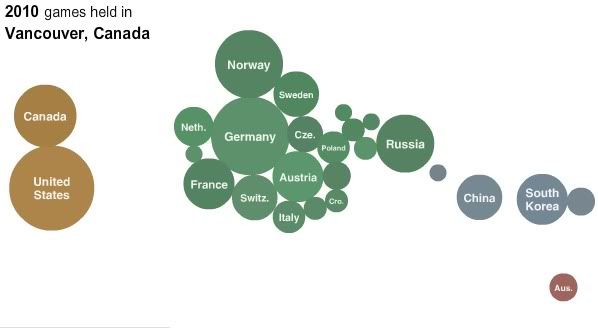 This represents medals won in the Vancouver Olympics thus far. You'll notice that the United States has a larger circle than Canada. This is because the United States has won more medals than Canada. I draw attention to this fact because the Canadians were all bragging about how they were going to win the most medals. Clearly they are going to fail to do so. Their hubris rankles; hubris belongs to Americans and Russians. In Canadians it is just... unbecoming. Also, as a United Statesian, it's fun to root for my country on the rare occasions when we are the underdog, like in the winter Olympics and the World Cup.
The map has medal winners going back to the first Winter Olympics in 1924. You can see that it was basically a meeting of Europeans, with a few odd North Americans thrown in, until the last few cycles. Now the North Americans are a much bigger presence, as are the Asians and even the bleepin' Australians, who need to knock it off with the excelling at sports all the time. Are there even any ski resorts in Australia?
Meanwhile, The Vancouver [de]Tour Guide 2010 team sends along their effort to
google map
some stuff of interest around Vancouver. They describe it as "a mixture of google bombing, counter-cartography and psychogeography that uses Google Maps to contest the online/offline representations of Vancouver during the Olympics." I link to them here mainly because I enjoy the words "counter-cartography" and "psychogeography."