Gallup
asked some people
how satisfied they were with their standard of living, which yielded this result: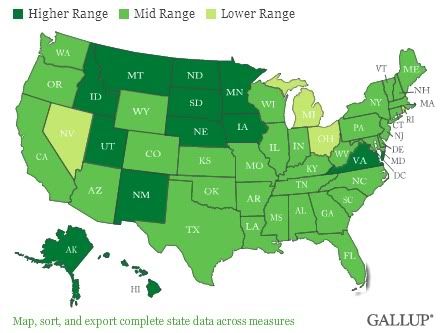 Says Gallup:
The 2009 satisfaction results are based on combined data for Gallup Daily tracking from Jan. 2 through Dec. 30, 2009, including more than 350,000 interviews for the entire year. The state sample sizes range from 632 in the District of Columbia and 878 in Wyoming to 37,203 in California. Forty-one states had more than 2,000 respondents...

Overall, 31 states showed an increase in satisfaction of at least one percentage point between 2008 and 2009, whereas 5 showed a decrease of at least one point (the greatest decrease, Hawaii's, was less than four points.) The remaining 14 states plus the District of Columbia changed by less than one point.
Now that just doesn't make any sense. Obviously things went downhill from 2008 to '09. Don't people know that? Don't they realize they must be less satisfied now than they were a year ago? Or is it that lean times make people feel more fortunate about their relative prosperity? After all, even now more than four-fifths of people who want jobs have them. That's 80% of the country that probably realizes they could be worse off than they are.
At any rate, it's interesting that the most satisfied states seem to be those that have been least affected by the recession, rather than the ones that have the highest standard of living. And for the least satisfied states it's the same deal: they don't have the lowest objective standards of living, but they have been hard hit by the current recession. I take this to mean that satisfaction, in this context, correlates with perceptions of change in economic conditions, rather than economic conditions as such. (Which makes some sense: if you have a net worth of $1,000, and you find a hundred dollar bill on the street, you'll probably feel a lot more satisfied than someone who's got $10,000 in the bank, but just lost $50,000 at the craps table in Vegas (Nevada, by the way, is the least satisfied state in the country).)
But overall there's not a real huge range from least to most satisfied. Nevada, like I say, is the least satisfied, but 69% there still express satisfaction with their standard of living. The most satisfied is North Dakota, at 82.3%, followed by South Dakots, at 80.8%. (The Dakotas, by the way, are the two
ugliest states in the country
as well. The reader may make of that what she will.)
BONUS FUN FACT
: Did you know the Rolling Stones'
(Can't Get No) Satisfation
is only the third-best version of that song? It's true! Here's the best: