Listen, I know it may be tough to keep up with my blistering blogging pace of late, but just bear with me... Here I give you a map of
everything
: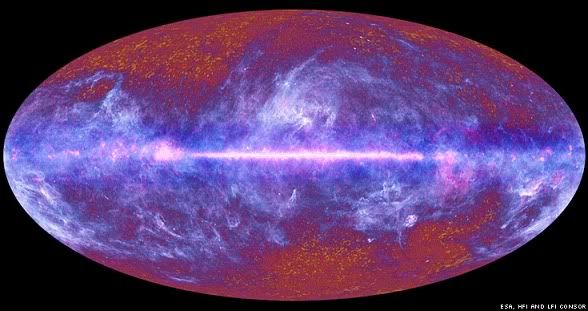 The image is from a BBC News
article
about mapping done by the European Space Agency's Planck Telescope:
This is the extraordinary place where we all live - the Universe.



The picture is the first full-sky image from Europe's Planck telescope which was sent into space last year to survey the "oldest light" in the cosmos.

It took the 600m-euro observatory just over six months to assemble the map.

It shows what is visible beyond the Earth to instruments that are sensitive to light at very long wavelengths - much longer than what we can sense with our eyes.

Researchers say it is a remarkable dataset that will help them understand better how the Universe came to look the way it does now.

"It's a spectacular picture; it's a thing of beauty," Dr Jan Tauber, the European Space Agency's (Esa) Planck project scientist, told BBC News.

Dominating the foreground are large segments of our Milky Way Galaxy.

The bright horizontal line running the full length of the image is the galaxy's main disc - the plane in which the Sun and the Earth also reside.
One book I'm currently reading is Edward Casey's
Getting Back into Place
, which discusses the nature of place from a philosophical perspective. One of the book's themes is that our lived experience 1) always occurs in discrete places (as opposed to abstract space, for instance) and 2) our understanding of, or feel for, place is inherently a function of embodied experience. That is, it is only by virtue of being embodied beings that we understand places in the way we do. (To give one example, the verticality of certain buildings - think of the soaring cathedrals of Europe - evoke the natural verticality of the human form, and so we experience such buildings as inherently dignified, aspirational, and literally uplifting.) (Yes, I know that is a little broad and might sound vague or just weird. There's just no way to really do much more than gesture broadly like this. But check out the book if you're intrigued by this kind of stuff.)
And of course, one of the places we all share, and a place we are always
in
, is the universe. But what's odd about this place (well, among other things) - or in particular, what's odd about our experience of this place, is that it seems to totally baffle our intuitions as embodied beings. The scale is just so vast, it's literally incomprehensible. I mean, I can sort of imagine myself circumnavigating the globe. In fact, I have flown clear to the other side of the world. Which seemed like a very far way to go, but it was nonetheless a scale to which I could (barely) relate my own body: I can sort of imagine the world divided up into chunks on the scale of like a landscape that I might behold from a ridge, say, and thereby imagine the whole as constituted of so many chunks. Does that make sense?
Okay. But the universe is just so obviously beyond that scale. We can't imagine what a light-year is - we can't relate it to the scale of our sensory experiences in the way I just tried to do with the Earth as a whole (which was already pushing it). And it's 4 light-years to the
nearest
star. And the numbers! Are there 100 billion stars in the universe? 50 quadrillion? It really doesn't matter, because again, the numbers are so far beyond anything we can imagine in terms of our embodied experience that they are just meaningless. We hear numbers like this and we just think: really big number. We don't comprehend them in the way we can comprehend "3" or "8" or "100" or even "10,000."
Anyways, what's great about the map above (and the accompanying
BBC video
might help you to "read" it) is that it represents this greatest possible whole, the universe itself, in a way that makes it sort of comprehensible. Of course, the scale of the universe reamins beyond the ken of our intuitions as embodied beings. But this representation at least helps us to
imagine
the whole - to take it in, in a sense, like we would a landscape. And this must be to the good: this place is our home, after all. We ought to get to know it as well as we can.