The Underground
is hot
, according to this
heat map
of heat: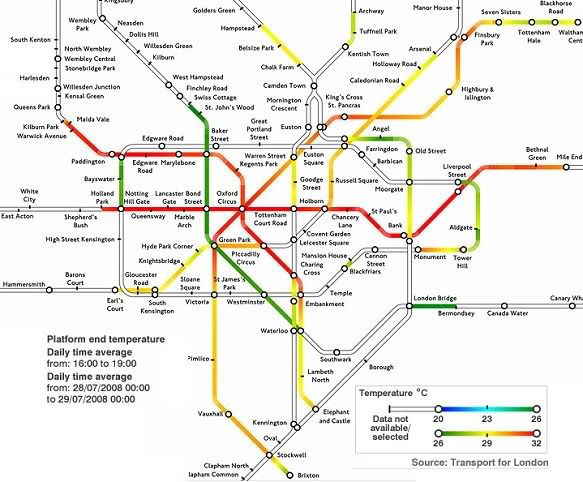 Says
Times Online
:
It is easy to feel sorry for commuters on the London Underground at this time of year, crammed into stuffy carriages with the temperature rising. But some passengers, it appears, are more deserving of pity than others.

A map compiled by Transport for London (TfL) has revealed the hottest spots on the Tube network, notorious for its lack of air-conditioning.

The map, which covers most of the Underground lines in zones one and two, was compiled by TfL officials to identify areas most in need of cooling, but it will be a handy aid for travellers anxious to avoid the worst spots.
The hottest parts of the Central Line were above 30C (that's 86 in 'Merican numbers) on the hottest day of 2008. Notes the Times: "In previous tests, temperatures in some carriages during the summer have exceeded 35C [95F], which would make the network officially unfit for transporting cattle." Upon reading this line, the hooved population of Texas collectively burst into derisive laughter, rolling gaily among the prickly pears and bullnettles for some hours. (They're big readers of Times Online, oddly.)
My point: that's not all that hot, especially for the hottest day of the year. How did the Brits ever manage to stick around India long enough to comprehensively exploit the place?