A
new map from Gallup and AHIP
(and a continuation of their study of well-being across the states, covered here
before
), measures states by healthy behaviour: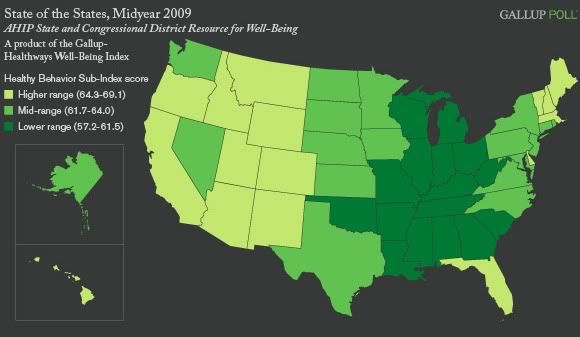 Says Gallup:
The midyear results from the AHIP State and Congressional District Resource for Well-Being, a product of the Gallup-Healthways Well-Being Index, find the nation as a whole dropping substantively on the Healthy Behavior Sub-Index, from 63.7 in 2008 to 62.6 in the first half of 2009. The Healthy Behavior Sub-Index is one of six sub-indexes that make up the Gallup-Healthways Well-Being Index, and asks Americans four questions: do you smoke; did you eat healthy all day yesterday; in the last seven days, on how many days did you exercise for 30 minutes or more; and in the last seven days, on how many days did you have five or more servings of fruits and vegetables. The Healthy Behavior Sub-Index scores for the nation and for each state are calculated based on a scale from 0 to 100, where 100 would be a perfect score.

Healthy Behavior scores in most states are trending down in the first half of 2009 compared with 2008, though many have not decreased by a statistically significant degree. Mississippi, whose score ranks among the bottom 10, is the only state to record a statistically significant increase in its healthy behavior score thus far in 2009.
The healthiest states, in order, are Vermont, Hawaii, Montana, California, New Mexico, New Hanpshire, Maine, Delaware, Idaho, Wyoming, and Oregon. The least healthy is Kentucky, followed by Arkansas, West Virginia, Indiana, Ohio, Alabama, Tennessee, Oklahoma, Mississippi, Illinois, and Louisiana.
This is sort of a weird map. On the one hand, there is a very clear nexus of unhealthy states - all of the 'higher range' states are contiguous, in fact, with 'mid-range' states mostly forming a periphery around that core. But the weird thing is that the group of unhelthy states, despite its contiguity, transcends just about every other cultural and geographical distinction youcould try to make: North/South; warm-weather/cold-weather; urban/rural; manufacturing/service/agricultural economy; liberal/conservative; Obama/McCain; large/small minority population... If you break down these states by any intuitive metric, they seem to form no pattern at all, yet they create as tight a spatial clustering as you'll find on any map of the states. Is it a coincidence, or is there some hidden variable here that would explain the pattern?
The map does vaguely remind me of
the personality type maps from Richard Florida
. In particular, there are a few personality traits which seem to notably predominate both in the South and in the Midwest, in roughly the same areas as the "unhealthy behaviour" states in the map above: people in those regions tends to be extroverted, conscientious, and not very open to experience. Do those traits correlate with smoking, eating junk food, and not exercising? Don't see any reason why they should, but who knows.
Via
M. Yglesias
.