No, not the decently high quality yet reasonably priced
used clothing store
on Westheimer Road in Houston, TX. Why would you think I'm talking about that? I'm referring to
this map animation
from the New York Times: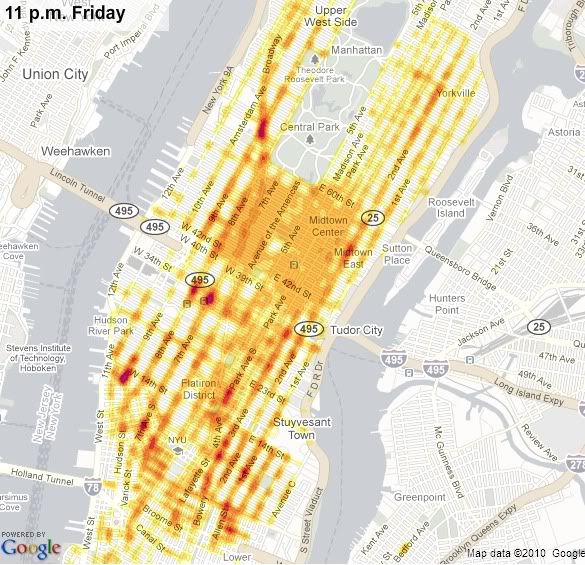 It's a heat map showing frequency of cab pick-ups at
every single block of Manhattan for every single hour of the entire week
. Animatable. Zoomable. Rolloverable for the specific number for any single block and a corresponding graph for the entire week. Really just a gratuitous display of data triumphalism from the Times who, one senses, are just sort of showing off at this point. This map, for instance, doesn't really tell you anything you don't already know - people take cabs in Midtown during the day, in the Village at night. But if you're of a certain bent you might find the sheer detail and comprehensiveness of the presentation here sort of jarring.
It does seem like we're approaching a point, rather rapidly, where almost any information about spatial conditions, processes, or events can be instantly translatable into cartographic form. I am looking forward to the day when I can zoom in close enough on Google Earth to see a real time image of myself sitting at the computer using Google Earth. The image will narrow in on the computer screen... closer, closer, until-