From the Baltimore Sun's
B'More Green blog
comes news (via the Sun's
Garden Variety blog
) that the US Department of Agriculture is planning to revise its map of plant hardiness zones across the country by this fall. But the Arbor Day Foundation has already updated changes in hardiness zones from 1990 to 2006, which they show in their
interactive map
: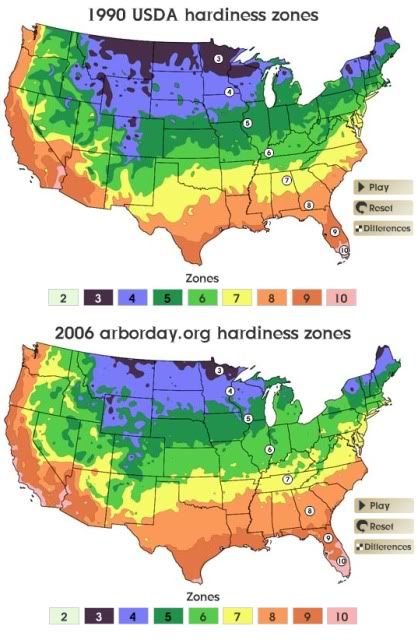 This shows the changes in zone classification over that time period:
Some isolated areas of the interior West and Midwest have actually warmed enough to move up two zones, while a few areas in the Southwest have actually gone down a zone. But you can
infer from the streaked pattern that most areas, especially in the eastern two-thirds of the country, have warmed by the equivalent of about half a zone. That actually strikes me as a bit extreme; zones are classified by average annual low temperature, as per the scale on the left; so if I'm reading it right, a half-zone change would correspond to the average annual low being about 5 degrees F warmer in 2006 than it was in 1990. Is that really plausible? Average temperatures certainly haven't warmed by that much; but maybe the climate has changed in such a way that especially cold snaps are less common at the height of winter. I don't know.