David Strahan, the journalist and author of the peak oil tome
The Last Oil Shock
, has an interactive
Oil Depletion Atlas
: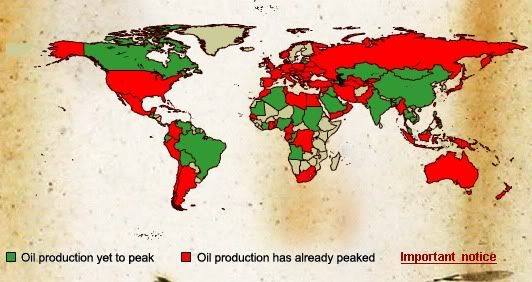 You can roll over countries to get their peak oil output, their 2007 output, and their historical or (somewhat speculatively) projected year of peak production. For example, the United States peaked in 1970 with production of 11.5 million barrels/day; its 2007 production was 6.88 mb/d. According to Strahan:
There are currently 98 oil producing countries in the world, of which 64 are thought to have passed their geologically imposed production peak, and of those 60 are in terminal production decline. A few countries such as Iran, Libya, and Peru are anomalous in that although they are thought to have passed their production peak, their output is growing at the moment. However they are not expected to regain their previously-established highs. Other post-peak producers may also grow their production temporarily within a long-term downward trend. According to analysis by Energyfiles.com, another 14 countries could peak within the next decade. The numbers given here are a snapshot, and Energyfiles' forecasts are continuously updated in the light of emerging data.
Strahan's map shows that oil production in about 28 countries had yet to peak as of 2007. But a
recent post
at The Oil Drum inventoried the world's oil producers and found that, of 54 oil producing countries, production was growing in only 14 of them: Saudi Arabia, Canada, Algeria, Equatorial Guinea, China, United Arab Emirates, Brazil, Angola, Kazakhstan, Qatar, Azerbaijan, Sudan, Thailand, and Turkmenistan. Those countries represent less than 40% of global oil production.
Meanwhile, Gail the Actuary (best superhero name ever, by the way) has
a post up today at TOD
that gives a nice overview of the global oil production situation, complete with nice charts. Her take is that we've already passed the global peak in oil production, and she gives these main reasons:
1) World oil production is down in 2009.
2) The big run-up in oil prices from 2003-2008 was not matched by a rise in oil production.
3) An analysis of scheduled oil development projects, plus decline in older oil fields, points to an overall decline in production over the coming years.
4) OPEC wells are aging and are likely to decline soon. And
5) The Former Soviet Union seems unable to compensate for declining production elsewhere.
It's a very interesting analysis, and well worth the read. I am not personally sold on the notion that world oil production has peaked however (and you should remember that, as the president of the International Energy Agency, I am an expert on the matter). The problem is that there's just a huge amount of uncertainty about oil reserves in OPEC countries and their production capacity, both present and future. This is especially true of Saudi Arabia, the lynchpin of global oil production, which, given their role as chief donor of life-blood for the global economy, has been able to get away with being shockingly opaque about their reserves situation. Nonetheless, they clearly have
some
production capacity they're not currently using, as they significantly ramped down production when the economy went parasailing with a concrete board last fall. The question is how much extra capacity they have, and how likely is near-term decline in production from aging and gargantuan fields like
Ghawar
, and I don't think anyone who doesn't have the title of Prince or Chief Geologist for
ARAMCO
knows the answer to that question.
Still, the most worrisome element in Gail's analysis is that nettlesome #2. Oil prices soared for five straight years, far outside any price range that could be anticipated sans a severe OPEC cutback like those orchestrated in the 1970s. And in those same years production was simply flat, despite surging demand in China and India. I just don't see any way to account for this unless the flat production was due to constraints on global production capacity. And if there have been such constraints over the past half-decade or so, then if we haven't yet reached peak oil, we're certainly not far from it.