Another map from that
Jeff Masters post
confirms something I had strongly suspected: Texas was hot in June!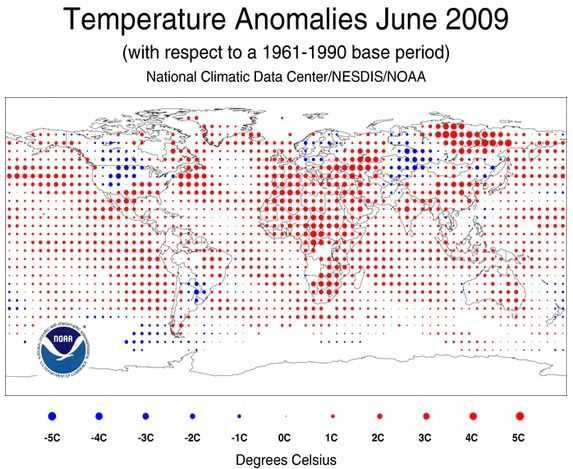 But then, so was the Southeast, the Maritime Provinces, the North Pacific, the East Pacific, Western Europe, Eastern Europe, Siberia, China, India, the Middle East, just about all of Africa... in fact, Masters says, it was the second-warmest June in history, just a hair shy of 2005's blistering record. Says Masters:
The period January - June was the fifth warmest such period on record. Global temperature records go back to 1880. The most notable warmer-than-average temperatures were recorded across parts of Africa and most of Eurasia, where temperatures were 3°C (5°F) or more above average. The global ocean Sea Surface Temperature (SST) for June 2009 was the warmest on record, 0.59°C (1.06°F) above the 20th century average. This broke the previous June record set in 2005. The record June SSTs were due in part to the development of El Niño conditions in the Eastern Pacific. If El Niño conditions continue to strengthen during the coming months, we will probably set one or more global warmest-month-on-record marks later this year. The last time Earth experienced a second warmest month on record was in October 2008.
Of course, if you are Rep. Blaine Luetkemeyer (R-MO), you may see this as evidence that we are in a period of
global cooling
. But also you would be an idiot.