Via
New Scientist
, the most detailed and complete topographical map of the world ever produced has been created with data from NASA's
Terra satellite
.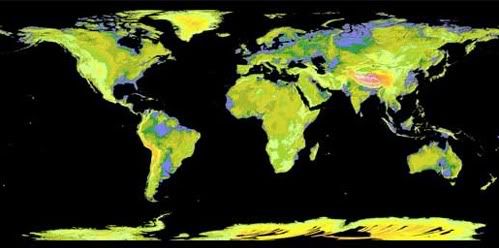 Says
NS
:
The map incorporates more than 1 million digital images and covers 99 per cent of the globe, a substantial increase over previous maps, which surveyed just 80 per cent of the planet. The new map covers latitudes between 83° north and 83° south, resolving patches of land as narrow as 30 metres across – three times the resolution of the next best digital topographical map, which was made by the space shuttle Endeavour during an 11-day mission in 2000.
According to the LA Times'
L.A. Now blog
, "the resolution is so clear that you can plainly see Dodger Stadium and other landmarks in pictures of Los Angeles," viz. this one:
And, via
The Daily Mail
, which has several large images, here's Europe:
The full data set is
online
and available for free.