Via
Good
, the
Housing and Transportation Affordability Index
has some excellent maps for several dozen US metros that pertain to housing, transportation, and energy issues. This one shows CO2 emissions from auto use per capita in the New York City area: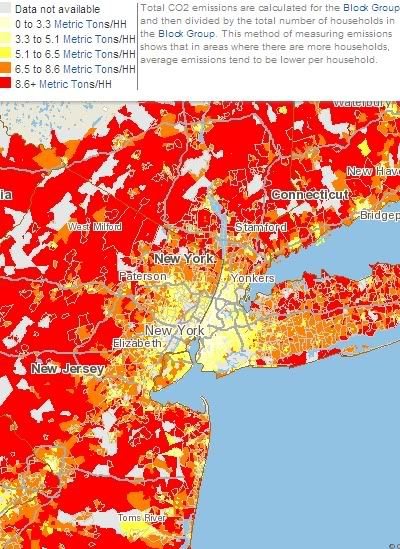 The numbers go way, way down as you move towards the urban center. Of course, most people in New York City don't even own cars. But maybe a bit more surprisingly, the pattern is almost as striking in cities where sprawl is rampant. Here's Atlanta, for instance: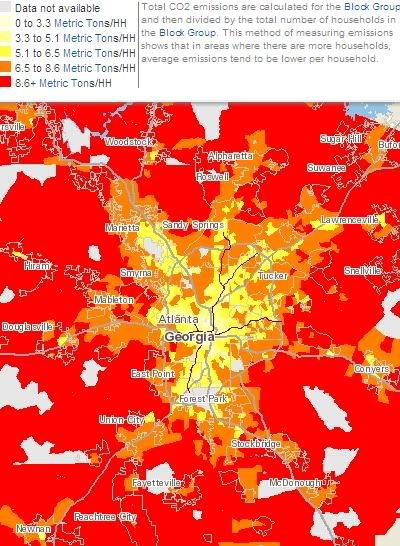 The gray lines are freeways and the black lines are
Marta
rail lines. It looks like per capita CO2 use is highest both along the Marta lines and near freeways; in the case of the latter, that's presumably because the sprawl is somewhat more dense near freeways. But, of course, the general rule is that the closer you are to the city center, the smaller your carbon footprint.
There are many, many more maps here on a number of variables pertaining to housing and transportation. To pick one at random, here's transit ridership as a percentage of workers in the Bay Area: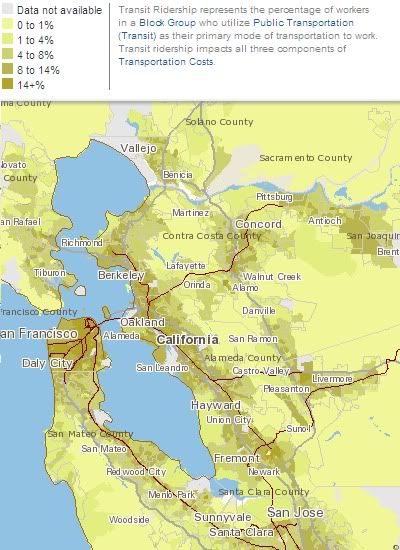 There's much more like this - average rents, gasoline expenses, travel time to work, etc.; it's a ton of information that's both fascinating and useful. And all in map form. If you're like me, in other words, this site has the potential to waste a tremendous amount of your time.