Happy solstice, everybody! Before you head out to
jump your bonfires
and
search for your magic fern blossoms
, you may want to check to see whether it is night or day. To that end, this map can help: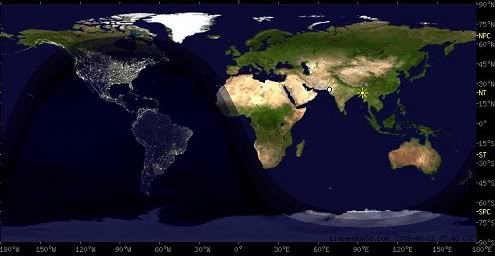 There are a bunch of versions of this out there, but this one's especially attractive. This image, from
timeanddate.com
, shows the division of night and day on the Earth's surface at 5:45am UTC, June 20, 2009 - this morning, the precise moment of the summer solstice.
What would be cool is if I could embed a sun clock in this post so that it would always be current. It seems like the sort of thing that ought to be possible, but unfortunately I am dumb, so I can't figure out how to do it. And, unlike the proverbial broken clock, this one will only be accurate once a
year
; still, you can click on it to see the present night/day situation.
Come to think of it, the next summer solstice will happen at a different
time of day
, so this clock won't ever be entirely accurate again. Shoot.