The center-left didn't just lose in the elections for European parliament - they got creamed in local elections in the UK.
This map
, from Times Online, shows the comprehensiveness of the shellacking: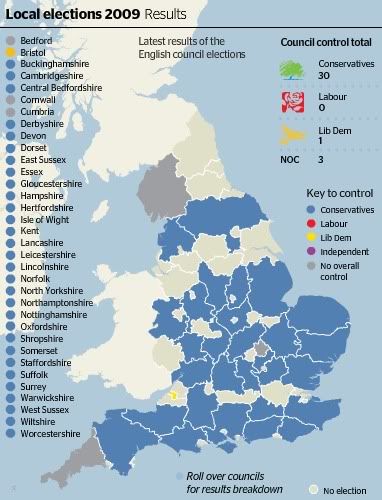 Says the
BBC
:
The Tories took councils from Labour and the Lib Dems including Derbyshire, run by Labour since 1981.

The Lib Dems won control in Bristol while Labour lost control of all of its four councils.

Labour deputy Harriet Harman admitted the results were "disappointing" but said the party would learn from them.

The Conservatives took Staffordshire, Lancashire, Derbyshire and Nottinghamshire from Labour - which had run all of them for more than 25 years - as well as Devon and Somerset from the Lib Dems...

With all the results in from the 34 councils which held elections, the Tories gained 233 councillors while Labour lost 273 seats and the Lib Dems four - although Sussex's results are provisional pending a recount in one ward.

According to the BBC's projections, the Conservatives garnered 38% of the national vote with Labour falling to a historic low of 23%.

The Lib Dems polled an estimated 28% of the vote, with other parties on 11%.
I understand there are certain
peculiarities
in British politics at the moment. Nonetheless, the poor results for Labour are no doubt partly due to the fact that the economy has gone hang-gliding without a glider on Labour's watch. And it kind of points up one of the absurdities of representative democracy: utterly contingent factors play an enormous role in the outcome of elections. For instance, the Great Depression traumatized countries around the world. In the US, the response was to elect Franklin Roosevelt and the most liberal government in US history. In Germany, the response to elect Adolf Hitler and the Nazis. In both countries, the economy eventually improved; and in both countries, the new government got the credit. Likewise, the tanking economy didn't help the Republicans in the US last fall, and it's not helping Labour in the UK now. But all of this is quite aside from who's
actually responsible
for the tanked economy.