Vision of Humanity
has updated their
Global Peace Index
for 2009. The results: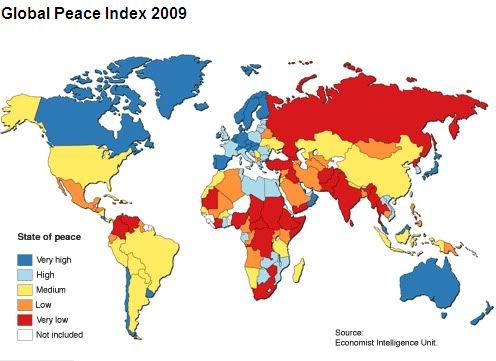 Says
Vision of Humanity:
The results of the Global Peace Index for 2009 suggest that the world has become slightly less peaceful in the past year, which appears to reflect the intensification of violent conflict in some countries and the effects of both the rapidly rising food and fuel prices early in 2008 and the dramatic global economic downturn in the final quarter of the year. Rapidly rising unemployment, pay freezes and falls in the value of house prices, savings and pensions is causing popular resentment in many countries, with political repercussions that have been registered by the GPI through various indicators measuring safety and security in society.
This is the third annual edition of the report which "is composed of 23 qualitative and quantitative indicators from respected sources, which combine internal and external factors ranging from a nation's level of military expenditure to its relations with neighbouring countries and the level of respect for human rights." Three categories of criteria were used in
calculating
the index: "measures of ongoing domestic and international conflict, measures of safety and security in society and measures of militarization." Examples of measures of ongoing conflict include number of external and internal conflicts fought between 2002 and 2007, number of deaths from organized conflict, and relations with neighboring countries; examples of safety and security include political instability, levels of violent crime, and levels of disrespect for human rights; examples of militarization include military expenditure/GDP, volume of weapons shipments, and ease of access to small arms. You can get full details on the methodology
here
.
The index ranks 144 countries, though they irritatingly omit Kyrgyzstan, along with Turkmenistan, Niger, and several other countries. The full rankings are
here
. Here are the most and least peaceful, along with a few other countries I semi-arbitrarily deem important:
1. New Zealand
2. Denmark
2. Norway
4. Iceland
5. Austria
6. Sweden
7. Japan
8. Canada
9. Finland
9. Slovenia
11. Czech Republic
12. Ireland
16. Germany
22. Netherlands
30. France
35. United Kingdom
40. Bhutan
74. China
83. United States
85. Brazil
99. Iran
108. Mexico
118. Thailand
122. India
129. Nigeria
136. Russia
137. Pakistan
138. Chad
139. Democratic Republic of the Congo
140. Sudan
141. Israel
142. Somalia
143. Afghanistan
144. Iraq
I don't think it will surprise anyone that the developed countries of Europe top this list or that a number of African countries rank rather low. I'm a little bit surprised at how low a few countries in Asia rank, especially India and Thailand, and at how high some of the countries in Africa rank, frankly. But overall the rankings here seem pretty intuitive.